Home > Testimonials | Page 1
Testimonials
The following are real emails and letters from real people about their south pacific travel with
pacific for less

.
Thank you Jennifer and all the Pacific for Less staff for making our trip to the Bora Bora St. Regis so amazing. You took care of every detail and left having the fun up to us. From exploring the island in a jeep, to cruising around it on jet skis, to swimming with sharks and rays and a beautiful sunset and lobster dinner on our private motu...our trip was a memory-maker. There isn't anything I wish had been different or better. It was perfect.
Sincerely,
Mike & Joanne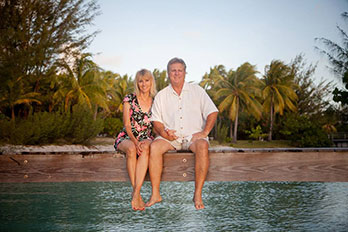 ---
Dear Claudia,
We had a fantastic trip! Your agency was great, I requested quotes from around 5 different agents who specialized in Tahiti and chose your agency for pricing and customer service.
The Hilton Moorea was nice but definitely not on the level of the St. Regis.
The St. Regis is unbelievable. Service top notch, attention to small details, very friendly staff, and had lots of extras like water at the pool/beach, sunscreen, etc.
Thank you for making it a great trip!
Robert & Rebecca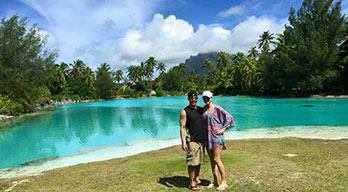 ---
Ia Orana Claudia,
I miss hearing that all day every day!
We had an amazing time and absolutely enjoyed every minute of our stay. The Four Seasons Bora Bora was perfectly amazing. Thank you for your help in putting it all together for us and meeting our budget goals! I will def be writing reviews on trip advisor for both hotels we stayed at and will refer you to anyone that we know of that plans to visit! It was really nice to have all the transportation and excursions and everything all taken care of for us! Just made more time for relaxing:)
This was definitely a trip of a lifetime and one I will always remember, my best vacation yet:) Thank you for making this such a memorable time and getaway for us!
Chasity & Jason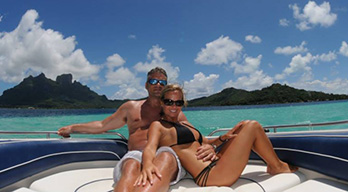 ---
Hi Claudia!!!

THANK YOU THANK YOU THANK YOU! We had the absolute trip of a lifetime. I actually get a little bit teary/emotional just thinking about what an incredibly epic trip it was all around. The service from you and your staff has been impeccable every step of the way, and your recommendations of activities & hotels was perfect. There wasn't ANYTHING bad about our trip...except that we couldn't stay in French Polynesia forever!

The service at the Sofitel was wonderful, and the staff so friendly and helpful. We were upgraded from a garden bungalow, to a luxury garden bungalow right on the beach with a perfect view of the ocean and Tahiti beyond! Adventuring around Moorea was a blast, and we loved the sense of exploration and adventure on the island. The food was wonderful, and the locals, kind, knowledgeable and friendly. We actually thought the breakfast at the Sofitel Moorea, though a simpler spread, was actually better than the breakfast buffet at the Four Seasons. I also loved that the Sofitel gave you a set of snorkel/fins that you could keep the whole trip and just return at the end of your stay. The dancing every-night at the restaurant was also a very nice touch, and fun to see so many different polynesian dances!

The Four Seasons Bora Bora was UNBELIEVABLE! THE most beautiful and special resort we have ever experienced. From the moment you step off the plane they welcome you with impeccable service and luxury! We were also upgraded upon arrival by the front desk manager, Laurence, from an overwater bungalow, to a Beach Villa! OMG!!!! At first I was a little upset that we would not be over the water in an OWB, as we had been on the beach in Moorea, but Laurence said to trust her, and if we didn't like the beach villa she would move us to an OWB. The moment we stepped inside the beach villa our mouths dropped open! I have never in my life seen a more beautiful or amazing hotel room...or should i say HOUSE! There were 3 bathrooms, 2 bedrooms, a private pool and Jacuzzi, and private beach! I actually cried from happiness once we had walked out onto our own private beach! The service and attention to detail are really what make the Four Seasons stand above and beyond any other hotel. The staff always had a smile, and said La Orana wherever we went, and we really enjoyed getting to know the staff members we would see at each restaurant and bar and location. Patricia, the manager at the Sunset bar, and David & Margot, servers at the Sunset bar, were so amazing, and really made our visit special. They were not only professional, but kind, and unique individuals who were a treat to talk with an connect with on a personal level. We also LOVED the Shark & Ray trip you organized for us, and our captain Leo was the best/most fun/most interesting guide we had on our whole trip to FP!

I have a gut feeling that because we booked our trip with you the hotels gave us extra special service :)

Again, marururu for everything, and for the best honeymoon anyone could ask for! Can't wait to start saving up again for our next adventure in the South Pacific...I think we're going to be hooked for life....

Best,
Allegra & Derrick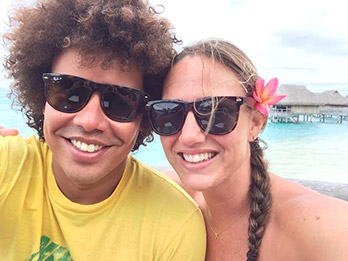 ---
Dear Claudia,
We just got back from our extraordinary, unforgettable, PERFECT polynesian honeymoon. We had the most incredible time, and made magical memories for a lifetime!!! . Thanks to you we felt taken care of at ALL times, and our honeymoon was seamless from start to finish. The Four Seasons Bora Bora was ultra luxurious, absolutely stunning, the service impeccable, and the overwater bungalows - pure heaven. Too many highlights (our first jump off our bungalow's deck into the lagoon, watching stunning sunsets, catching the fire show by the pool, paddle boarding and kayaking, witnessing 4 lovely wedding ceremonies on the island) but highlight #1 was swimming with sharks and stingrays on the tour you provided us. Thank you, truly, thank you for a honeymoon dream come true.
Ashira & Avi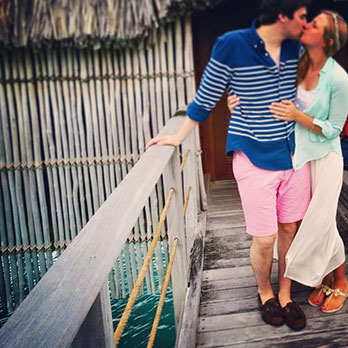 ---
Hi Jennifer!
We had an AWESOME time on vacation and can't say enough about how happy we are to have used Pacific For Less. It was so nice to know that everything was arranged for us and we didn't have only ourselves to rely on. In fact, Mitch had to call Claudia at the very last minute because he was in a panic over his oversized suitcase. She called him back immediately and put his worries to rest. Could not have asked for better, more prompt service. And again, it was great to have a contact person at your fingertips.
We were pleasantly surprised that the Air Tahiti Nui flight was so nice. Loved the free movies! I can never sleep on a plane so it helped pass the time. Arrival in Tahiti was seamless. It was comforting to see our name on the board and have someone immediately greet us and take care of getting us where we needed to be. Arriving in a foreign country without that personal attention would have been very stressful. In fact, all the notes, instructions and information we received from Pacific For Less were very helpful and made us feel confident that everything was in order.
Accommodations at both hotels were exactly as we expected…we got the rooms far out on the pontoons as we requested, and wine arrived on ice….just wonderful. Our first day we were in the pinch-myself-I'm-dreaming mode. Couldn't wipe that silly grin off our faces! Service at both resorts was friendly and proficient.
I loved both places. The entire Hilton Moorea facility was gorgeous, especially the restaurant and bar. Room was spacious and modern. Food in all the restaurants was great, and the breakfast buffet was out of this world. Snorkeling was incredible with so many fish I lost count. Never seen anything like it! Le Moana on Bora Bora was also lovely, with a more intimate, Polynesian feel. Our view of the reef could not be beat. Beautiful eagle rays floated by our deck every day. The concierge Edwina was especially helpful and friendly.
The best part of the trip was definitely the shark/ray feeding provided to us as part of our package. What an incredible adventure, one of the most thrilling things I have ever done! We saw other tour boats that day and none seemed as well-orchestrated as ours. The guides were right there with us the whole time, making sure everyone got a chance to see everything, going out of their way to make each person feel like a valued guest. They really ensured that you didn't miss anything. We stayed out nearly 2 hours longer than expected! On the way back, they provided drinks and fruit and a fun serenade by the boat Captain. Exceptional tour and absolutely recommended. Thank you for that!
I have never used a travel agent before. I have a nickname, "The General", and when you go on vacation with me you follow what the General has planned. Friends and family say I'm very good at it. So it is high, high praise that I say to you, I could not have done this one without you!! Having you arrange everything and provide expert advice on what really is a trip-of-a-lifetime….well, that's invaluable. It saved us time and money and provided peace-of-mind so I could enjoy the trip without worrying about every little detail. I am a top contributor on TripAdvisor and will definitely mention you in all my reviews. I honestly think one would be crazy not to utilize your expert services for a trip like this. I cannot say thank you enough!
I am also happy to chat you up to any potential customers, so if you have someone who is on the fence about using you, have them call or email the General! I'll set them straight.
Thank you again for everything you did to make our trip... and our dreams... come true.
Louise & Mitch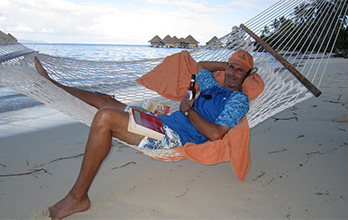 ---
Hi Jennifer,
We had an AMAZING trip!!!! Our trip was absolutely fantastic and we thank you for that! The diving was spectacular and we LOVED your recommendation for scuba diving with Y Aka Plongee. We got to see 2 hammerheads which was incredible!!!
Also wanted to thank you for the awesome VIP table at Villa Mahana - incredible and pulled off the surprise to my husaband :) Loved it!
We hope to take an anniversary trip in the future!! :).
Thank you so much.
Megan & Joseph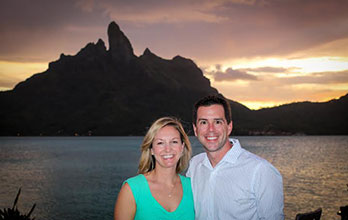 ---
Hi Claudia,
It is so nice to hear from you! We are slowly getting back into work ...! We got back to Chicago this weekend, and the warm and sunny Tahiti was such a good respite from the cold here! We have much warm memories to last us this winter in Chicago. I am very happy with the services received from your agency, and I will highly recommend your services to anyone. Before this I have never really believed in using a travel agent, as I always found booking trips myself was cheaper. Obviously I was proven wrong when I found your prices are better than what I can arrange myself. Furthermore with an unfamiliar place like Tahiti it was much easier to leave the travel arrangements like flights and cars to you. In terms of payment and all your administrative staff I can tell they are all wonderful!
The complimentary Raanui snorkeling tour that you arranged was fantastic! We love it, saw so many sharks and stingray. The operator was so kind and knowledgeable. Definitely one of the highlights of our trip. Attached are some of our happy pictures. Thank you very much Claudia!
Regards,
Kailee and Bruce, Chicago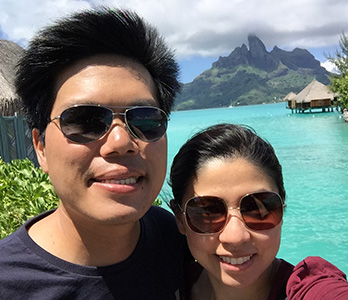 ---
Dear Jennifer,
we completely enjoyed our dream honeymoon. Thank you so much!
The St. Regis Bora Bora was amazing. It was the best vacation, so beautiful and relaxing. We absolutely loved it. You and the Pacific For Less team made it completely effortless for us and it was such a joy having you plan everything for us. From booking our flights, to making our actual hotel reservations, to reserving differently daily activities, to getting us reservations at one of the best restaurants in Bora Bora (La Villa Mahana), you made everything so easy. I was able to relax and know that everything had already been taken care of because you were so thorough. We can't thank you enough for helping us plan a once in a lifetime trip.
We are already talking about going back to Bora Bora one day. We will definitely be using you and Pacific For Less again!
Lauren & Tyler

---